03.01.2017 : Technics SL1200GR Direct Drive Turntable : 1499,00 €
verkoopprijs 1499,00 euro,silver of black;snel bestellen is de boodschap (levering mei?)
Technics launches Grand Class SL-1200GR: Leading-edge Technologies Deliver Rich, Robust, Analogue Music in a New Standard Direct-Drive Turntable System
4 January 2017 – Technics today unveiled the new Grand Class SL-1200GR Direct-Drive Turntable System for audio enthusiasts, a standard model inheriting the technology of the SL-1200G, which was developed as a reference direct-drive turntable for the next generation.
Launched in 2016, the SL-1200G combined Technics' traditional analogue technology and advanced digital technology. Its outstanding performance literally rocked the hi-fi market and redefined the reference for direct-drive turntables. Parts from the SL-1200G were newly developed to create the SL-1200GR, such as the coreless direct-drive motor and precise motor control technology, high-rigidity platter and high-sensitivity tonearm. This ensures audio enthusiasts using the SL-1200GR can enjoy music with the rich, robust sound of analogue records.
Unlike belt-drive and other systems, direct-drive systems rotate the motor at low speed and directly drive the platter. This concept provides numerous advantages, such as the almost complete absence of degradation in S/N ratio due to motor vibration and deceleration mechanisms, as well as high reliability over a long period of time because of not requiring parts replacement. In 2016, Technics developed the twin-rotor, surface-facing, coreless direct-drive motor with rotor magnets placed on both sides, eliminating the rotation irregularity of the motor, referred to as "cogging," which was a unique issue for direct-drive systems. This motor was adopted for the SL-1200G, which once again drew a significant response in the hi-fi market. The SL-1200GR inherits the same design philosophy with the new development of a single-rotor, surface-facing, coreless direct-drive motor, resulting in the elimination of cogging. The SL-1200GR's rotation control, which verifies and corrects the precision of the motor, uses the latest motor control technology cultivated in the development of Blu-ray devices, just as that used by the SL-1200G. In addition, the electrical circuitry has been tuned to ensure the newly developed motor of the SL-1200GR achieves maximum performance.
The platter achieves high-rigidity and vibration-damping characteristics by using a two-layer construction with deadening rubber applied to the entire rear surface of the aluminum die-cast. This eliminates the unnecessary resonance that is otherwise relayed to the record, thereby producing clear sound.
To increase the inertial mass and to reduce vibration, the shape of the aluminum die-cast portion was optimised by simulation. At 2.5kg (including the rubber mat), the SL-1200GR platter is 0.8kg heavier than that of the previous SL-1200MK5. Also, the back surface of the platter features strengthening ribs to improve rigidity. Increasing the surface area of contact with the deadening rubber achieves damping characteristics that are more than twice as good as those of the SL-1200MK5.
The tonearm tracks the rotation of the record and enables reading with high precision. The tonearm inherited by Technics is the traditionally used static-balance universal S-shaped tonearm, employing an aluminum pipe with excellent light weight and rigidity for the material of the tonearm pipe.
With its gimbal suspension construction, the tonearm bearing section of the SL-1200GR uses a cut-processed housing that employs high-precision bearings, as in the SL-1200G. The high initial-motion sensitivity of 5mg or less is achieved through manual assembly and adjustment by skilled Japanese artisans. This enables the grooves etched into the records to be accurately traced.
Gold-plated phono terminals and ground terminals for detachable cables are provided below the tonearm, so a wide variety of cables can be selected. Also, the use of metal shielding construction inside the case reduces the effects of external noise.
The SL-1200GR ensures high-rigidity by using a body with a two-layered construction solidly unifying the BMC and the aluminum die-cast chassis. For the insulators supporting the body, as with the SL-1200G, the SL-1200GR uses special silicon rubber that ensures both high vibration damping characteristics and long-term reliability. Vibration in the horizontal direction is absorbed by reinforcement with cylindrical tubes using microcell polymers. While inheriting the technology of the SL-1200G, the insulators have been modified to specifically suit the characteristics of the SL-1200GR.
.Technology for Rotational Stability Coreless Direct Drive Motor High-Precision Motor Controller .Construction for Vibration Tolerance High-dampening Turntable Platter Rigid Cabinet Construction Silicon Rubber Insulator .High Quality Parts High Sensitive Tonearm Gold--plated Detachable Terminals
.Technics Definitive Design Inherited SL-1200 Series .Turntable Section Type: Direct Drive Manual Turntable Turntable Speeds: 33 1/3, 45, 78 r/min Adjust Range: ±8%, ±16% Starting Torque: 2.2 kg・cm Build-up Characteristics: 0.7 s. from standstill to 33 1/3 r/min Wow and Flutter: 0.025% W.R.M.S. Rumble: 78dB (IEC 98A Weighted) Turntable Platter: Aluminum die-cast Diameter:332mm Weight:Approx. 2.5kg (Including rubber sheet) .Tonearm Section Type: Universal, Static Balance Effective Length: 230mm • Overhang: 15mm Tracking Error Angle: Within 2° 32' (at the outer groove of 30cm record) Within 0° 32' (at the inner groove of 30cm record) Offset Angle: 22° Arm Height Adjustment Range: 0 - 6mm Stylus Pressure Adjustment Range: 0 - 4g (Direct Reading) Head Shell Weight: Approx. 7.6g Applicable Cartridge Weight Range: [without auxiliary weight] 5.6 - 12.0g (14.3 - 20.7g (including head shell)) [with auxiliary weight] 10.0 - 16.4g (18.7 - 25.1g (including head shell)) Cartridge Mounting Dimension: JIS 12.7mm, interval • Head Shell Terminal Lug: 1.2mmφ 4-pin terminal lug .Terminals Audio Output: PHONO (Pin Jack) x 1, EARTH TERMINAL x 1 .General Dimensions (W x H x D): 453 x 173 x 372 mm Weight: Approx. 11.2kg
---
01.10.2016 Technics Direct Drive Turntable System SL-1200GEG: € 3499,99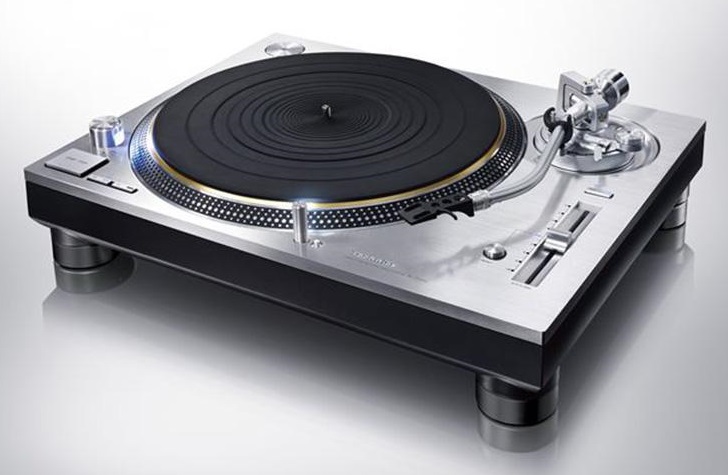 BEPERKT leverbaar (begin oktober 2016)pré-bestellingen aan 3449,99
leverbaar (begin oktober 2016)pré-bestellingen aan 3449,99 :bestellen:bestel NU
Press Release :26.04.2016
Technics has today announced the specifications for the new non-limited edition Grand Class Direct Drive Turntable System SL-1200GEG, developed for audiophiles looking to rediscover and experience the uniquely warm sound quality of analogue vinyl discs.
The SL-1200GEG will be available to buy in Autumn 2016 for those not fortunate enough to have purchased one of the only 900 limited edition SL-1200GAE turntables available outside of Japan. The 300 limited edition samples available for the Japanese market sold out in just half an hour.
The Vinyl Revival
Due to the widespread use of CDs, turntable systems have been absent as major competitors in the audio market, however an ever increasing consumer interest in vinyl records has prompted the launch of a new system for HiFi use.
Overcoming Analogue Issues of the Past
In conventional analogue turntables sound quality was degraded by tiny vibrations of the motor and rotational speed fluctuations, known as 'cogging'. However, by combining the knowledge and expertise gained as the originator of direct-drive turntable systems with a newly developed coreless direct-drive motor without iron core, this 'cogging' can be eliminated.Any potential minute motor vibrations are suppressed even further by high-precision rotary positioning sensors guided by a microprocessor controlled system; a feature unique to the new Technics turntable.
The Technics turntable aims to provide the smoothest possible rotary control by the use of an encoder at the bottom of the motor which detects the precise rotating angle.
Furthermore, a twin rotator construction reduces the bearing load while maintaining high torque and also limits minute vibration during rotation making it possible to reproduce the warm sound and subtle nuances of musical expression engraved in the analogue record grooves and craved for by vinyl lovers.
Broadcast Industry Beating Three-layered Turntable
The turntable has a three-layered construction consisting of a rigidly combined heavyweight brass and aluminum die cast platter, and deadening rubber covering its entire rear surface.This eliminates unnecessary resonance, achieving high rigidity and vibration damping. The smooth rotational stability and inertial mass even surpasses the Technics SP-10MK2, the direct-drive turntable standard used in the past by broadcast stations worldwide.
High Dampening Tonearm
The tonearm employs a lightweight material (magnesium) which has been cold drawn to improve the characteristics of the material and increase the dampening effect.
In addition, high initial-motion sensitivity is attained by employing the traditional Technics gimbal suspension construction with the horizontal rotation axis and the vertical rotation axis intersecting at a single central point, as well as high-precision bearings using a cut-processed housing.
Four-layered Cabinet Construction
A hairline-processed, 10-mm-thick top panel of immaculate aluminum has been added to the previous three-layered construction of aluminum die cast, Bulk Moulding Compound (BMC) and heavyweight-class rubber of the SL-1200MK5. This four-layered construction combines high rigidity with a premium finish and feel.
Grand Class SL1200GEG Specification and Availability
The SL-1200GEG will be available to buy in Autumn 2016.
All new design for Redefining the Direct Drive Turntable
Twin-Rotor Surface-Facing Direct Drive motor
NB:prijzen,leveringstermijn en beschrijving onder voorbehoud van eventuele veranderingen.
---
---

---
Technics Direct Drive Turntable System SL-1200GAE : € 3499,99 :UITVERKOCHT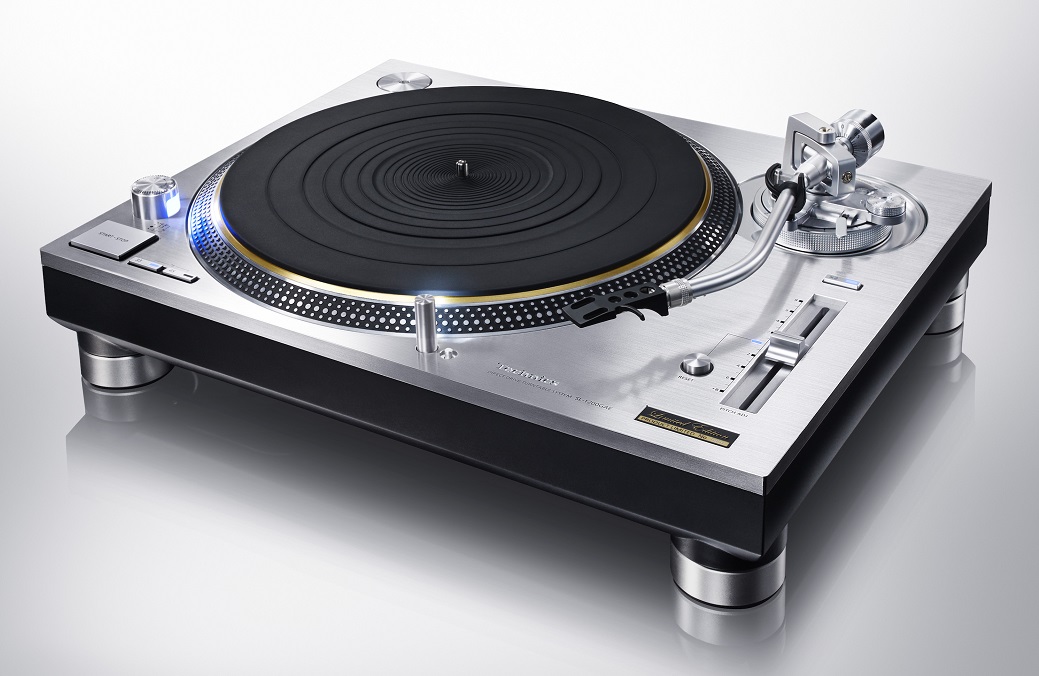 SL1200GAE limited edition (magnesium arm):vermoedelijk rond juli 2016 en SL1200G (aluminium arm)eind dit jaar
SL-1200GAE : zéér beperkt beschikbaar !!!!!!!!
SL-1200GAE : pre-order!!!!!!!!wil je één van de gelukkige bezitters zijn van dit prachttoestel is een préorder zeker nodig;zéér beperkt leverbaar
De SL1200GAE is een speciale limited edition met een magnesium arm en er worden slechts 1200 stuks gemaakt. Iedere platendraaier krijgt dan ook een genummerde 'limited edition'nummer(zoals vroeger met de SL1210M5G). De SL1200G is uitgerust met een aluminium arm
Beide draaitafels brengt Panasonic onder de Grand Class-lijn uit. De SL1200GAE komt deze zomer ter ere van het vijftigjarig bestaan van de Technics-merknaam uit in een gelimiteerde en genummerde oplage van twaalfhonderd stuks. De SL1200G komt later in 2016 in grotere oplage beschikbaar. De prijs van de SL-1200GAE(speciale limited edition)zal vermoedelijk(update 15.03.2016) 3499,00 euro bedragen.
leveringsdatums:
SL1200GAE:augustus 2016
SL1200G :september-oktober 2016
SL1200??????:2017
Direct Drive Turntable System Grand Class SL-1200GAE
50th Anniversary Limited Edition Available in Summer 2016 Due to the widespread use of CDs, turntable systems disappeared briefly from the market, but their warm sound quality is bringing them back. The direct-drive turntable invented by Technics is still highly acclaimed by audiophiles and DJs in the form of the SL-1200 Series, and there have been many requests to revive the turntable system. As such, we decided to develop a new system for Hi-Fi use. Here we provide an outline of our intent in this development. Direct-drive is generally considered to be for DJ use, and belt drive is for Hi-Fi use. In the 1970s, when Technics invented direct-drive turntables, their performance and reliability were first recognised by broadcast stations. High acclaim was then received by audiophiles. The high-precision rotation and absence of S/N ratio degradation were particularly attractive to these users. The high torque and reliability of direct-drive were recognised by DJs, and direct-drive turntables became the standard in the club scene. When developing a direct-drive motor, considerable capital investment is required for large-scale production equipment. In contrast, belt drives can be made with a little cost. Also, compared with direct-drive, belt drive was designed with the latest technology. The view remains that direct-drive is for DJ use and belt drive is for Hi-Fi use. Originally, direct-drive offered superior sound quality. If we redesign the direct-drive motor and control circuitry, we will be able to create a turntable that is superior to other systems. Technics was also a leader in incorporating innovations, such as vibration-damping materials, cabinet construction, and insulators. Having inherited the DNA of Technics, we do not wish to merely make a replica of the SL-1200. In other words, our intent in this development is to redefine the direct-drive turntable reference.